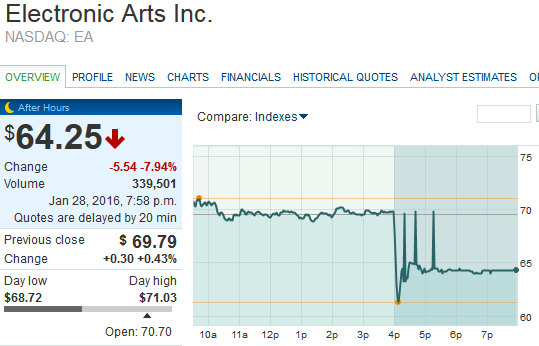 As I mentioned in my previous post, EA released its financials for the third quarter of this fiscal year. I was hoping for good news. Well, if you look at the graph above that massive plunge in after-hours trading should tell you all you need to know. Wall Street did not care that EA sold more than 13 million copies of Star Wars Battlefront, hitting that target ahead of schedule. They did care that the guidance for the fourth quarter was lower than they expected. They also cared that revenue, year over year, was $1.80 billion, when analysts expected $1.81 billion. Oh gee, I guess EA is worthless now to Wall Street, which explains the massive plunge in share price in after-hours trading from around $69 at close to $64.
I don't think I'll ever understand what Wall Street wants out a of company. This was supposed to be a great quarter that pushed the price up to a level that would make me comfortable selling my shares. Now I get to continue to hold onto them as fickle investors and analysts dick around with the share price.
I can only imagine the actual drop once the market opens tomorrow. Who knows when it will get back up to near $70 again. Hindsight is obviously 20/20 but I should have sold these shares in late October when they were at $76.