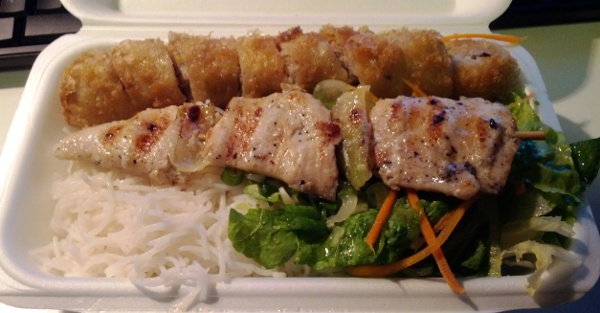 Item(s): Combo A, consisting of chicken brochette, crispy spring roll, and vermicelli noodles
Establishment: Le Viet in Harbour Centre Food Court
Price: $6.99 plus tax
I used to patronize this food court location quite a bit when Black Box was downtown. It was just a quick dash down the street so it was convenient during times of inclement weather or if I just in a hurry. I've returned here at least twice now since I started my new job.
This particular combo is dependable albeit not spectacular. It's difficult to mess up crispy spring rolls and it's usually the first thing I eat when I get it. It's difficult to say if they make their own rolls or just get them frozen. The chicken on a stick is also solid. It's not flavour explosion but it doesn't taste like cardboard either. I wish they gave you a little bit more meat though. They are also enough vermicelli noodles to keep me happy. The fact they also put enough fish sauce over everything is another positive.
If I ever want a fast, predictable, and dependable lunch, this will always be an option.