I was at Ikea this weekend to buy a new lamp for my desk. The old lamp had a cracked base and was no longer usable. While in the lighting section, I saw these LED lights that were cycling through different colours. As I am drawn to shiny and colourful things, I immediately went over to take a look at them. They were designed for accent lighting and they came in strips of four, round pads of four, and in a flexible strip. I wasn't sure if I knew what I'd use them for. I also couldn't see where the packages for these lights were on the shelf. Last but not least, the store was closing. So I decided to just leave this for another day and just paid for my lamp.
After getting home, I did some research online. People were using these lights to light up dresser drawers, on the underside of glass desks, under kitchen cabinets, and mounted behind flat panel TVs. The lights all looked great but it was the TV setup that had the most relevance to me. I returned the next day to Ikea to pick up the four strip pack. It was impossible to figure out where these lights were being stored even though the Ikea web site stated there were about 50 still in stock. I asked a sales associate about these lights. It turns out these lights were stolen from the shelves so often they had to keep them in the warehouse area. The only way to get these lights is to pay first and then have your order brought to you at the pick-up counter. Oh by the way, they're not cheap either. At $40 CDN, these are some pricey accent lights.
Anyways, with lights in hand I brought them home to mount behind my TV. After a minimum of effort and some cable management, I was able to mount all four strips behind my TV. Two strips were placed on the side and the other two on the top. The video above shows the lights cycling through all its colours. You can also make it stay on one colour. A colour wheel on the control knob gives you fine control on the what shade you want. Here's what the back of the TV looks like now: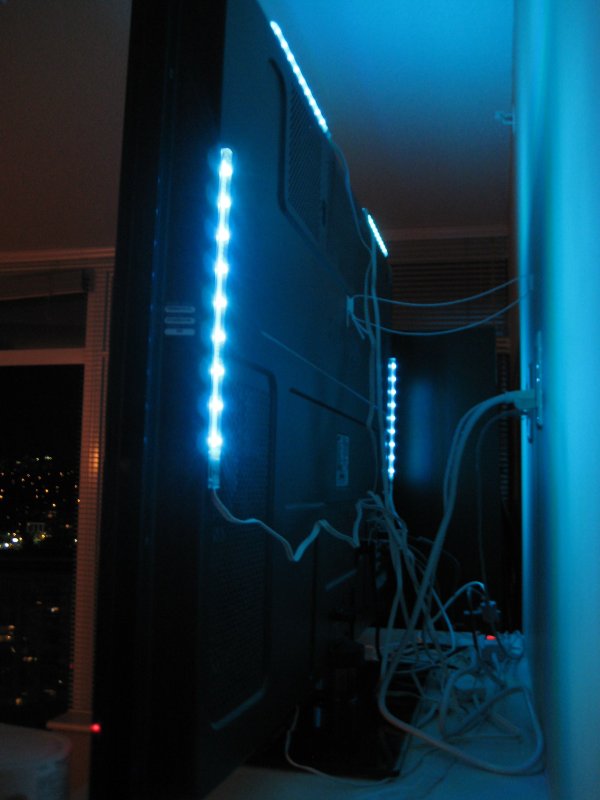 I think it looks quite nice and I'm investigating the possibility of putting these in the kitchen for my cabinets. You can back light anything now!