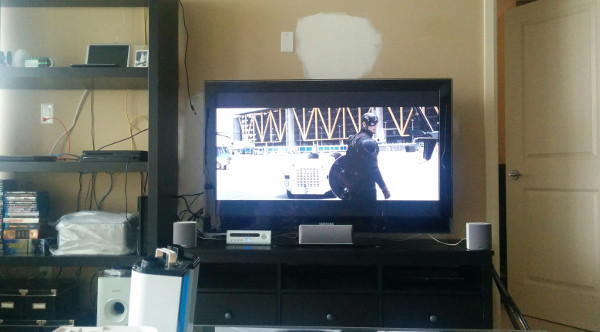 This weekend I declared the home reno to remove my fireplace as completed (for now) and proceeded to clean up my living room. I vacuumed up the work area, moved my new TV stand in place, put my TV on top of said stand, and began the arduous process of putting back the rest of my furniture and wiring up all my equipment again. Even in a simple but modern home entertainment system, there are so many damn wires to connect.
When it was all done though, I sat down on my couch, turned on the TV, and the first thing I watched was live hockey broadcast. I couldn't believe my eyes. I was watching TV at eye level and my neck was at a comfortable and normal angle. I wasn't craning my head up to watch my TV while it was on top of a stupid fake fireplace mantle. My TV screen seemed bigger and I guess if you do the math, it is actually closer to the couch bit a few inches for sure. The image also seemed sharper, crisper, and more vivid. Now that probably is my imagination. While it was on top of the fireplace the viewing angle wasn't optimal, sure, but since my TV is a plasma, off-angle performance is still phenomenal. Damn it though, the picture does seem a bit better.
I just can't put into words how happy I am that my TV is now in the right spot. I'm also so pleased with the TV stand I bought. The colour matches the rest of the furniture in my living room. When I look at the room, everything just seems to be correct. The TV stand also has drawers and cubby holes, which allows me to have new options to store stuff. To celebrate this momentous weekend, I watched two movies on Netflix and started playing a new game on my PS4.
Now that I look back upon this, I realize that I should have done this many years ago. I talked about getting rid of the fireplace for about seven years, which in hindsight is ridiculous. Don't drag your feet on your dreams and aspirations kids! One more thing, I obviously haven't painted the drywall repairs from the home reno. I'm going to do that this summer. Lastly, if you want to see a comparison, here's a then and now.