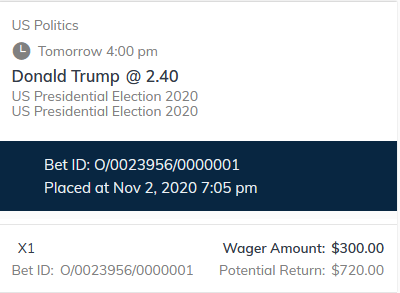 Today is election day for the United States of America. Registered voters will choose their next president. I've had this opinion for many years and it is that I despise US presidential elections. For better or worse, what the U.S. does or doesn't do has a significant influence on the world stage. The U.S. president obviously has a major hand in their policies, both foreign and domestic. Yet, only Americans can vote for the U.S. president. Every four years, the rest of the world sits impotent, hoping the idiots in America don't screw it up for the planet.
As many of you know, they managed to spectacularly screw it up in 2016. Despite the polls leading up to election day saying it wouldn't go that way, the morons came out in full force to unleash a shit stain upon the world. I foolishly believed the polls, so I didn't put some money down on the election. It seemed like just throwing money away. I was so wrong.
The odds were so much against the moron that I would have made some sweet cash as the world began its descent into madness. I had four years to think about that. Well, here we are again and I am determined to learn from my mistakes. I am hedging my bet tomorrow. This time around, if America decides it wants to continue to crumble into oblivion, at least I can make some money out of it.
It is my honest and most hopeful wish that I lose my money but something tells me I won't be so lucky.