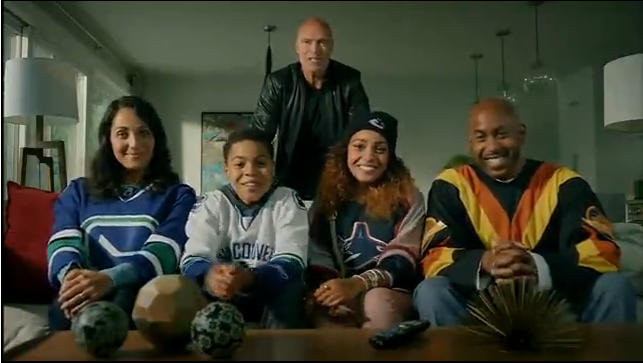 If you live in Canada, you might have seen some commercials on TV from Rogers, a massive communications and media company. The company recently won the Canadian broadcasting rights to nearly every single game in the NHL for the next twelve years, taking over from CBC, who for decades, had been the iconic TV brand for hockey in Canada.
To celebrate their multi-billion dollar investment, Rogers hired former NHL fringe player Mark Messier to do commercials on their behalf. Though he is somewhat seen as a legendary player in some hockey circles, he is considered one of the most infamous and hated players to have ever joined the Vancouver Canucks. Let it be clear, the hockey fans in Vancouver are the ones who despise Messier. He signed with the Canucks when his skills visibly declining. People in Vancouver were duped into believing Messier would be the saviour of the franchise, perhaps bringing the Stanley Cup to the city as he had done with Edmonton and New York. Nothing was farther from the truth. He ran several popular players out of town, including the deeply beloved Trevor Linden. Before he did that though, he unceremoniously took the captaincy from Trevor Linden. Linden only offered the "C" because most people would have expected Messier to not take it. He also took the number "11" while in Vancouver, even though that number had been unofficially retired by the Canucks after the death of Wayne Maki from brain cancer. Messier himself was a cancer in the dressing room, fracturing the team into two camps, those who supported Linden and those who fell under Messier's false promises. Messier played three years in Vancouver and his great leadership led to three years of missing the playoffs. He essentially took the money, sent popular players packing, led the team nowhere, and ran back to New York as soon as his contract had expired. He then had the gall to use legal action to force the owners of the Canucks to give him more money years after he had been retired.
To say that Mark Messier is one of the most hated players in Vancouver would be an overwhelming understatement. He did nothing for the team and essentially stole money from the franchise owners. There's a reason Messier has not made a public appearance in Vancouver since he left. He knows the people of Vancouver hate him.
So, this brings me to the screencap from one of his commercials above. In that commercial, he's with a family of Vancouver Canucks fans. He's telling everyone how the family can follow the Canucks wherever they go, using the Rogers Gamecenter package. I find it incredulous that an actual family of Canucks fans would be smiling with Mark Messier in their home. Social media in Vancouver have been discussing this commercial recently. First, people can't stand to see Mark Messier at all on TV. Second, people are angry that both Rogers and Messier would have the guts to make a commercial like that featuring Canucks fans. It's almost like rubbing it in our faces that he once played for the Canucks and made those three seasons a total disaster. I know of an actual Rogers cell phone store in the Vancouver area that refuses to put up any promotional material that has Messier in it.
In summary, that commercial is a farce and a slap in the face to Vancouver Canucks fans. We're not sure how much more of Mark Messier we can stand and we hope he goes away real soon.