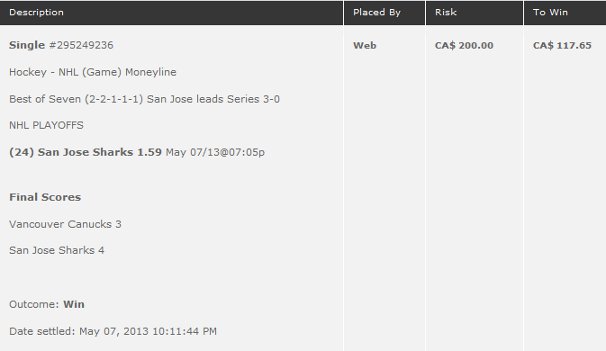 This evening the Vancouver Canucks lost their fourth straight playoff game against the San Jose Sharks and were swept from the 2013 post-season. As I do every year, I bet against the Canucks as an insurance policy. If they win, great and if they lose, then I win a bit of money. I usually bet on the series and not individual games but as my recent post indicated, I hesitated so I was only left with individual games to bet on.
Now I had a strong feeling that they'd lose tonight's game, which is why I decided to wager some money. It all seemed to go accordingly to plan when the Canucks entered the third period trailing the Sharks by a score of 2-1. Strangely, Vancouver showed some fight and spirit that had been missing for most of the series. They managed to tie it up on a power-play goal. Not only did they tie the game up, just mere minutes after that goal, they actually scored again to take a lead. I believe that was only the second time that they had a lead in the entire series. That got me worried because there was less than nine minutes left in the game when they went ahead. It turns out my worries were misplaced since an undisciplined penalty by the Canucks led to a SJ power-play. Of course, the Sharks tied it up in an effortless fashion and the game was once again deadlocked.
The game went into OT but again, a penalty to the Canucks led to another SJ power-play. It was this power-play that led to the series ending goal. As you can see above, the results of the game led me to win a bit of money. The bookies seemed to know this was coming as well. Had the Canucks won this game, which they almost did, you would have won three times as much if you had bet on them. My $200 wager would have won me close to $300 instead.
Well, another year of hockey has gone by and another insurance policy has been cashed in. It would be great if one year I didn't have to win any playoff hockey money.