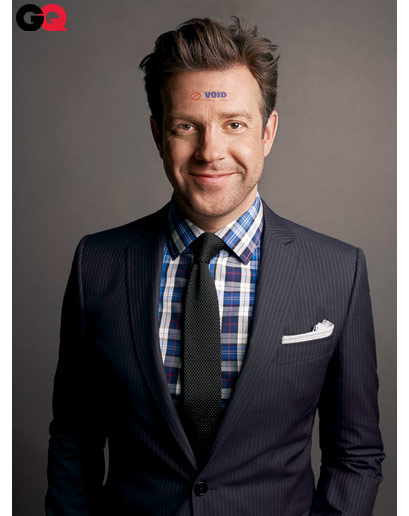 Photo courtesy of Gentlemen's Quarterly
Do you know who Jason Sudeikis is? He's a cast member of NBC's Saturday Night Live. Sudeikis has been on the show for several years and he's one of my favourites. He's a great all-around utility player who can be useful in almost any skit. His most famous re-occurring characters are probably Vance, the wickedly talented backup dancer, in What's Up With That and the Officer in SNL's version of Scared Straight (Sudeikis has an odd talent for jumping on desks). Up until approximately 2010, Sudeikis was known basically for his rich comedic talents. It was at this time, after which he divorced his wife of four years, that I began noticing Sudeikis' other talent.
Shortly after his divorce was finalized, there were rumours that he was dating Jennifer Aniston. If he was indeed was with Aniston, it didn't last very long because he soon became involved with January Jones of Mad Men fame. Jones figured prominently in last year's X-Men: First Class. The pair were together for several months before splitting about a year ago. It's also interesting that Jones had a baby after they parted ways but he isn't the only dude who is rumoured to be the father. Then early this year, Sudeikis went public with his newest gal pal, the stunningly beautiful Olivia Wilde.
Now before I continue, I have to make it clear, I like the dude. He's funny and he seems like a down to earth and genuinely nice guy. Having said that, I believe he's been dating way out of his league since his divorce. It really is astounding how he's been able to do all that. In a hockey analogy, it's like the eighth seed defeating the President's Trophy winner in the first round, three years in a row. I would have never thought any of those women would have dated Sudeikis. Aniston was once married to Brad Pitt. Wilde was formerly married to a prince. Those are some high standards to compete against, yet he seems to have not had a problem with that.
I suppose he has some sort of magical combination of qualities that makes him quite attractive to women. He isn't ugly and compared to an average dude, I guess he could be considered handsome but at the same time, in the world of celebrities, even he would probably admit he ain't no male model. Again, I believe the fact that he's funny and mostly likely a super nice guy more than makes up for any deficiencies in that area. In the end, I think he's done a great job with his post-divorce dating success. I just wish he could tell us what his secret is.