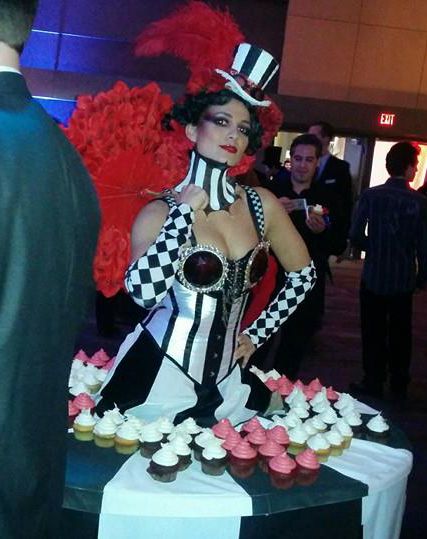 As I mentioned in my last post, I finally got on some antibiotics for that stupid sinusitis that I had. Though I was certainly feeling better on Thursday evening, I was feeling orders of magnitude better by late Friday. Three weeks of being congested and making so much mucous was finally solved by less than three days of antibiotics. I know we sometimes take modern medicine for granted but I was certainly reminded how thankful I am for what we already can do. I began to wonder what humans did before antibiotics. If I lived in the 1800s and I had this exact case of sinusitis, what would have happened to me? Would my body eventually just fight off the infection, perhaps six months down the road? Or would this have actually felled me in a fatal way?
Well, 1800s me aside, it was fortuitous that I was feeling great by Saturday because I had a party to go. I somewhat marveled that after being shut-in and hermit for nearly three weeks, I'd jump from that to a huge party, with no baby steps in between. The occasion was the Electronic Arts Canada "holiday" party at the Vancouver Convention Centre. My friend had an extra ticket because his wife wasn't interested in going, so he graciously allowed me to be his +1 for the evening. Along with spending some time with my friend, I also was looking forward to seeing any familiar faces that still work at the mothership in Burnaby.
The theme of the evening was patterned after the world in the novel The Night Circus. It was suggested that men wear suits and women wear evening gowns. There were some fantastically dressed women there who really got into the circus theme. As for the venue, it was nicely decorated, mostly dark with purple accented lighting. They were wandering entertainers, a dude on stilts, a clown, and I'm pretty sure there was someone on a penny-farthing too. There were also some living statues and an acrobatic act on stage and from the ceiling (like using silks and hoops). As for food, it was kinda hit and miss. I wasn't a big fan of the sliders and the hot dogs. There was also some weird "poutine", which amounted to crudely cut chunks of potatoes barely covered in any cheese. The desserts were much better, which featured funnel cakes, candied apples, cake pops, and popcorn. They even had some lady who had cup cakes on her skirt. She was walking around and people would just take a cup cake from her. You can see a picture of that above. Later in the evening, they brought out gyozas.
Near the back of the venue was a fun-house, complete with a hall of mirrors and a giant slide that went from the second story to the ground floor. Next to all of that was a whole row of booths that you might see at a carnival. There was skee-ball, fortune tellers, a temporary tattoo booth, and a place for you to win stuffed animals by popping balloons with a dart. I won a small stuffed penguin that I got tired of carrying around, so I left it on a table for someone to steal.
The highlight for me at least was seeing so many of friends and acquaintances that I hadn't seen for a while. It was very satisfying to talk to them all and find out how they were all doing. One dude told me he just had a baby with his partner. I didn't even know they were expecting.
I was prepared to leave early just in case my body wasn't up to it but I felt fine all evening and left just before last call. I gotta keeping taking these antibiotics for another week or so but hopefully I'm good to go from here on it!