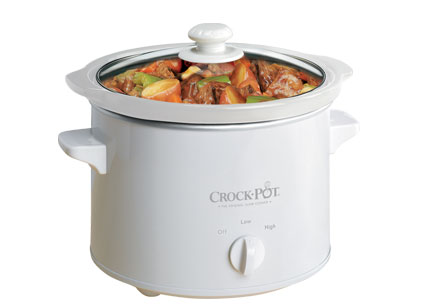 In a previous post, I wrote how I was very tempted to buy a low cost deep fryer when I was at Superstore. That was about eight months ago and this long weekend, I found myself at the same Superstore location. I again looked over the deep fryers but I also looked at slow cookers on the shelf. The had some pretty nice ones that were up to $60-$80 in cost. They had LCD displays, large capacities, and most likely microprocessor controlled cooking. They also had a smaller capacity slow cooker for $12.99. On a whim, I bought the smaller slow cooker. I figured I wanted to expand my culinary horizons and you can't really go wrong with $12.99. It looks like slow cooker above but smaller as it has only a 2L capacity. There's no fancy LCD display nor any artificial intelligence on this budget slow cooker. It has three settings for the knob: keep warm, low, and high.
I've read a few things about slow cooking and what mostly appeals to me is the relative healthy nature of the food and that you just dump stuff into it and forget it for several hours. I've started to investigate slow cooker recipes online. Most of them seem reasonable in terms of ingredients and preparation. This pot roast recipe looks quite simple to follow. I'd like to try this beef stew suggestion as well.
I'm excited to try the slow cooker next weekend. I'm tempted to leave it on and cook while I'm at work but that doesn't seem like a good idea. I wonder,  can you slow cook french fries or fried chicken?