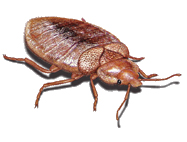 Loyal readers, welcome to the first post of a multi-post series on a subject I have not publicly divulged on this blog yet. Privately, some of you know have known about my battle with bed bugs. You may be surprised that this battle occurred nearly seven years ago, so I now tell this story from the standpoint of a grizzled, old war vet. I have decided to tell you this story now because I believe the time is right; also, I don't have anything else interesting to write about. Because the gap of seven years is fairly lengthy, some details have gone fuzzy and I may get some of events in the wrong order. The following account though is truthful and without embellishment.
Though nearly everyone now knows about the incredible resurgence of bed bugs into modern civilization, seven years ago, bed bugs were still relegated to the domain of that old bedtime saying. Back then, I certainly only knew bed bugs as that mythical thing. I was still in grad school in 2004. Due to having too much fun and putting off important scholarly pursuits, I needed an extra eight months to finish off my M. Eng. Having taken all my time at my beloved St. John's College, I had to find another place to live. That place was to be a one-bedroom apartment at the Thunderbird Residences on-campus at UBC.
There were signs of my impending misfortune but I wasn't smart enough to notice the clues back then. It's easy now to see the pieces put together. The first sign of trouble was the move in date. I was expecting to move in at the beginning of the school year, which traditionally is at the beginning of September. I was told cryptically that while the apartment had already been vacated, I couldn't move in until three weeks into the school year. It was foolish for me not to press UBC Housing on the matter but when they told me it was because of maintenance issues, I left it alone. The second sign of trouble was literally a sign. I somehow wrestled the apartment number from the housing office. Early in the school year, though still weeks away from the move-in date, I went by my future apartment. Because I was in a hurry, I didn't have time to come up close to look at it. I was perhaps about 20 to 30 feet from it. What I did notice was some sort of sign or notice on the door. It had some big letters on it and some symbols. Stupidly, I did not go up to it and look at it closely. I now recognize that sign was a warning from the exterminators. Seven years ago though, I did not know that.
The move in date finally arrived weeks later. Because I knew I was only going to be there for eight months, I decided to furnish the large, split-level apartment with very little furniture. The bottom level, which contained the kitchen and living room, had only a small card table and two fold up chairs. The upstairs, which had the bathroom and the bedroom, had a mattress on the floor (which turned out to be a terrible, tragic choice), a small night stand, a desk, and a chair.
If you go back in my blog archives, you can actually read up about this period in time. Go and find the archives for September of 2004. You won't find any mention of bed bugs but you'll notice that I actually moved into my apartment while enduring a nasty bout of food poisoning, a gift from my mother, who while always means well, has a poor understanding of food safety (to this day). So my week or so in my new on-campus apartment was taken up with me dealing with liquid death coming out of my butt just about every 30 minutes or so. The food poisoning incident was certainly an ordeal but had I known what was coming, butt coffee would seem like a minor inconvenience.
In my next post, I detail the first signs of the initial skirmishes and the horror which had just begun.
You can find the other posts of this series here.