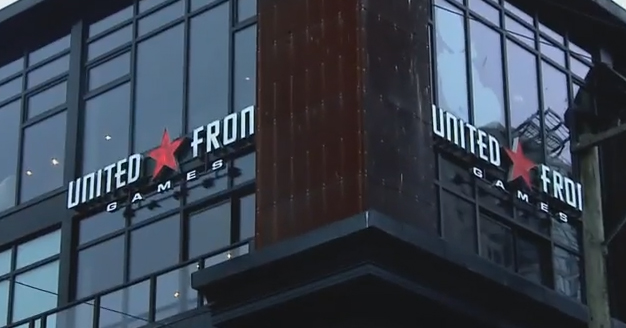 On Monday, United Front Games, a studio that I worked for on two different occasions shut their doors unexpectedly, putting many game developers out of work. It's always sad when a video game studio goes out of business but UFG will always hold a special place in my heart.
In late 2010 my career was at a crossroads as EA had moved my beloved Black Box studio to Burnaby from our awesome downtown location. EA had also decided to not proceed with another skate game beyond the third, instead pushing me to a game team I had no interest in working on. I wanted to work back downtown and I knew that I had prepare to leave either voluntarily or not. My first choice, by a wide margin was to go to United Front Games. In less than three years they had developed a reputation that made me want to be a part of their crew. They had secured a prime location in the heart of Yaletown, atop of a brew pub and restaurant. Ironically, it was this location that EA wanted to move our skate team to before the recession scared them off. Instead UFG took it over and made into one of the best looking studio spaces in the city. They also had secured two publishing contracts, both with big names: Sony and Activision. For an independent studio to have two teams working simultaneously on high profile games was impressive, especially in the recessionary days of post-2008. More importantly, they had a studio culture that was unlike anything I had seen or heard about. They were cool without being "too cool for school". They knew how to have fun and in a weird way they were kinda serious about having fun, if that makes any sense. The combination of the studio space, location, culture, and the games they were working on all made it my number one place to work at if I had to leave EA.
In October 2010, EA made my choice for me as they laid me off. Two months later, in December, I had accepted a six-month contract to work at UFG to help them complete True Crime: Hong Kong. I remember I started work at UFG on the day the game was supposed to go alpha, which is to say it was hectic day in a game's milestone timeline. My desk was right next to a guy named Nigel, who I had worked with years ago and who I got along really well. We eventually wound up having a shot of alcohol in the park next to the studio every single day as our "coffee break" but that's not the focus of this post.
A lot of times when you finally start to work at a job and a company, you discover your expectations don't exactly meet up with reality. That can lead to disappointment but I can say that there were no disappointments when I started at UFG. The studio space was as great as I thought it would be. The people were as warm and friendly as I expected them to be. The game I was working on was at cool as I thought it should be. Unfortunately for UFG, the game was cancelled by Activision less than three months into my contract. Through no fault of the studio, lots of people lost their jobs because of that decision. My contract was cut short but I didn't have any bad feelings. I got my wish to work at UFG, even if it was too short of a time.
UFG did finally get a chance to finish the game, this time in the form of Sleeping Dogs. I'm very proud to have worked on that game. Even better, UFG was nice enough to include me in the credits even though I wasn't able to return to the company to finish the game.
My second and much longer stint at UFG began in March of 2014. I was in a desperate situation to leave a terrible job. I was asking around to see if there were any openings anywhere. A friend told me that UFG was looking for a contract role to be filled. The project turned out to be Halo: The Master Chief Collection. Fortunately for me, I was working just down the street from UFG at the time so I told everyone I was taking a slightly longer lunch and walked the five minutes to UFG to have my interview. It was great seeing everyone again and they were nice enough to offer me the contract.
I worked on Halo from March to October of 2014 which meant I got to work in Yaletown for the summer which was just awesome. The sunny lunches on the various patios with the views of the water or pretty ladies was hard to beat. The eight month contract allowed me to get to know a lot more people than before. Though it certainly was a trying project to work on, that was filled with adversity, I did enjoy being an employee of United Front Games. It was the experience I was looking for way back in 2010 when I was looking for a change.
Not everyone who worked for UFG will share my sentiments but many will say good things about their time there. It was a special place and I'm sad that it's now gone. I am grateful however that I got two chances to work there. I won't forget that.