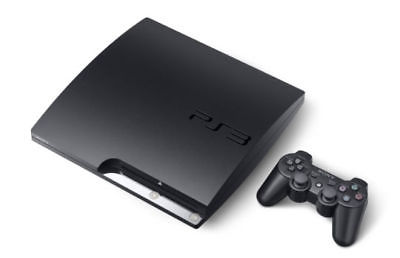 Almost a decade after it debuted, I now finally own a Playstation 3 console. If this was 2006, I'd be the envy of a lot of people when I put my PS3 next to my Xbox 360 on the shelf. Since this is 2015 though, I'm sure more than a few people are assuming I'm still jobless.
I acquired the 160 Gb Slim version of the PS3 through the Best Buy Canada employee auction web site. They give access to regular people if you're part of their Reward Zone club, which costs nothing to be a part of. This site sells off, eBay style, items that might be slightly damaged or cosmetically imperfect. Some items are in perfect condition, while others can be missing parts, manuals, cables, and the like. The status of any item is clearly stated in the auction description.
The auction ended at 5:30pm today, while I was still at work. About a minute and a half before the auction ended, I jumped in with my bid. Unlike eBay, each time you bid, you bid the maximum amount you're willing to pay and system bids for you. My limit was $70 before tax and shipping. To my delight, when my bid went through, it only bumped up the high bid a dollar to $42 and I was the high bidder! For about 45 seconds it stayed at $42 as I refreshed the page. I was very pleased at this point but then with 30 seconds to go, there was a flurry of bids. When it was all over, someone had pushed the high bid up to $68, just two dollars away from my limit. Those idiots cost me an extra $24. I wonder if anyone got angry they were just $3 from taking the PS3 from me. After taxes and shipping got added the total came to $92.
I've watched PS3 ads on Craigslist for months and the $92 price is fairly good. This particular unit has a few cosmetic scratches but has been tested as functional. It is missing some rubber feet but I think I can live with that. If it bothers me that much, I can go to the dollar store downstairs and buy some of my own to replace them. It also doesn't come with a PS3 controller, which might be the worst thing about this deal. Fortunately, I've already had a few people offer to lend one of their controllers. One benefit of this sale is that it comes with a 14-day money back warranty, which a Craigslist deal might not have.
Now that I have a PS3 console, I'm looking forward to catching up on all the PS3 exclusives that I've never played before: Metal Gear Solid, Uncharted series, The Last of Us, just to name a few. It will also replace my standalone Blu-ray player which I can sell and perhaps recoup some of the cost as well.
I can't wait to party like it's 2006!