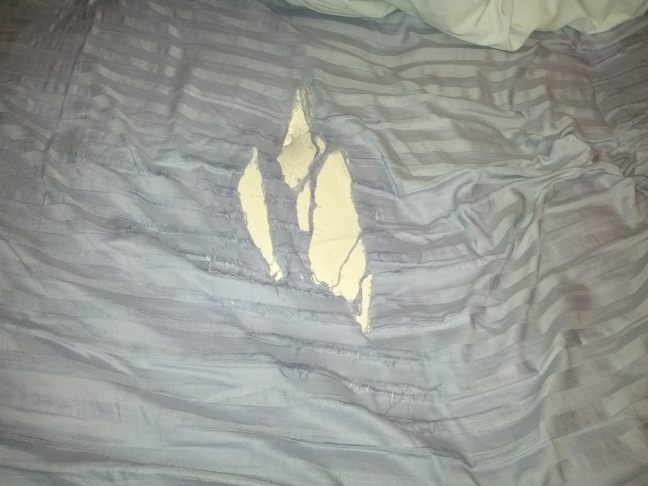 So in the above picture, you see what my bed sheets looked like this morning. Yes, I wore holes into my bed sheets. So here's what happened. Since I don't get a lot of visitors in the bedroom (tee-hee!) I've been just using a single set of sheets for about the last two years. I liked the colour and the 600 thread count made for a silky smooth sleeping experience. I also washed my single set of sheets on a regular basis.
The ripped part of the sheets is about where my feet wind up when my legs are slightly bent when I'm in bed. Who knows, maybe I have active legs when I sleep. I must have just worn down the fabric in that area until there was just no more integrity in the sheet.
So I decided to remove the sheet today because the hole would just get bigger and then I'd be rubbing against the actual fabric of my mattress. I only had a flat sheet from the set so I decided to put that thing on. Flat sheets are stupid. I know hotels might use them but for a civilian like me they're just a pain in the ass. It took me a while to center the sheet properly because one side wouldn't have enough sheet to tuck under the mattress. The sheet also isn't long enough to tuck in both the top and the bottom of the mattress. I wonder if these sheets will stay in place tonight. If not, I'll probably have to go buy another fitted sheet.
Does anyone else wear holes into their bed sheets?