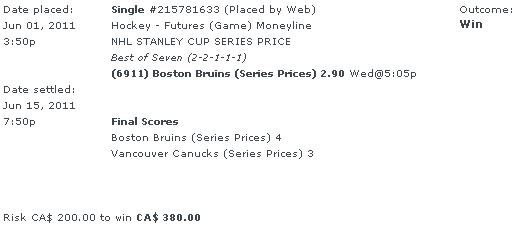 When I was but a child, following sports, specifically hockey, was something I enjoyed doing. It did not take me long to learn though, especially as a follower of the Vancouver Canucks, that disappointment would often be my reward for cheering for the home team. Watching your team lose is never a pleasant experience. The worst thing is that you cannot control the events you follow. You merely witness them and hope for the best. There is nothing you can do to help your team. You can buy as many tickets as you want or wear your jersey day in and day out, that's no guarantee your team will do better.
In June of 1994, the Vancouver Canucks were defeated by the New York Rangers in game seven of the Stanley Cup Final. That day remains the most disappointing experience I've had as a sports fan. What made it worse was I felt more disappointment for the players than myself. They were heroes in my eyes and they did absolutely everything they could to get that last win.
As I grew older, I got wiser with many things in life, including how to handle disappointment with the sports I follow. When the 2011 edition of the Vancouver Canucks started the playoffs, I decided to make several strategic bets against them. With the advent of online sports betting, these bets were easy to make. Rather than bet on individual games, I bet on the Canucks' opponents to win the whole series. The goal was to get myself in a win-win situation. If the Canucks won, then I'd be out a few dollars but at least the Canucks would be through to the next round. If the Canucks lost, then my disappointment would be tempered by the monetary windfall. In any case, there would be a positive outcome for me. This was my way of getting sports insurance.
In the first round, it wasn't difficult to bet on Chicago. The Blackhawks had destroyed the Canucks in two previous years. When the Canucks stumbled and lost three straight games to Chicago, I thought my bet was looking pretty good. I was so unsure of the Canucks performance that before game seven, I placed an additional bet on Chicago for that game alone. I nearly won those two bets as I was just an overtime goal away from making nearly $1000. I ended up losing my initial bets but that was ok. The insurance was working.
For the Nashville series, I forgot to bet before the series started so I lost my chance there. I was also hesitant to bet since I deemed the Predators to be a much less problematic compared to Chicago. For the San Jose series, I am disappointed to say I got caught up in the hype and I perhaps actually believed the Canucks would probably defeat the Sharks. Rather than throw away money, I decided not to bet against them. I was correct in doing so.
When I saw that Boston had defeated Tampa Bay, I came back to reality. I instantly recognized that the Bruins would be the toughest test yet for the Canucks. I made a simple bet that would ensure I would get something out of the Stanley Cup Final, no matter who won. At this point, after devoting so much effort, energy, and hope in the playoffs, I needed to cover my ass. It was the one bet that I made in my life that I would have gladly lost. In the end, the Vancouver Canucks were defeated and the only solace I can seek now is with the money that I won.
Keep in mind, with the two earlier bets I lost, I basically come out even at this point, so I didn't not strike it rich with this insurance policy. This is something I will continue to do with future playoffs involving the Vancouver Canucks.