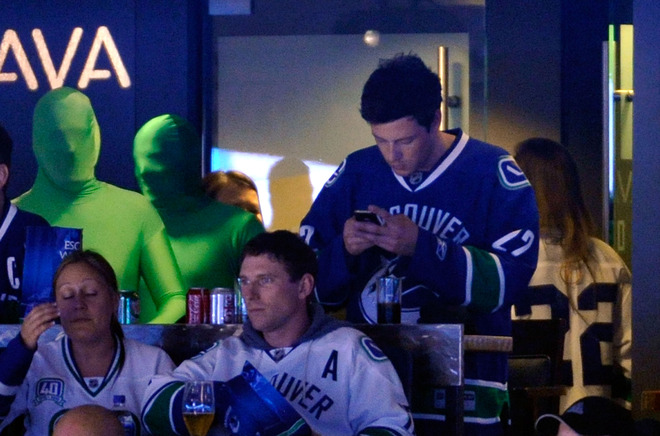 Cory Monteith loves to text (image courtesy of Getty Images)
If you've followed this blog for any amount of time you know that I follow the exploits of the local professional ice hockey team in my city, the Vancouver Canucks. You might also know that I very rarely dole out accolades for the team. I frequently criticize player performances and point out what I deem to be weaknesses. Does this make me a bad fan? No, I am not a bad fan in the least. So why do I appear to lack the same sort of enthusiasm some other fans have? I look at hockey from a much more realistic point of view.
Other fans have this unbridled enthusiasm that I just don't have. They seem almost assured that "this is the year". They profess that the Canucks are going to win every single game they play. After every game the Canucks actually do win, I often hear fans say, "I just knew they were going to win". The truth is, hockey is a very tough sport. The outcomes of each game, especially in the playoffs, can come down to a figurative dice roll, one small mistake that can cost one team the game. No one team is perfect in the playoffs and losses will happen. Players will play under their level and they need to be held accountable.
So why can't I just sit there and cheer like the rest of the fans? The reason is, as a fan, I've celebrated everything a hockey fan can celebrate, except for a Stanley Cup. In 1994, the Vancouver Canucks went to the seventh and last game of the Stanley Cup finals. Despite a heroic effort by Trevor Linden and the rest of his team, the Canucks fell to the New York Rangers by a score of 3-2. During that magical run to the finals, I witnessed and cheered every single success they had. They defeated three teams to get to the finals and nearly beat the Rangers for the ultimate prize in hockey. I cheered overtime goals that will forever be etched in my memory. I marveled at the goaltending performances by Kirk McLean. In the end though, they were one victory short of the final prize. As a fan, a part of me is still stuck in June 14, 1994 at the Madison Square Garden.
With that experience behind me, I don't really care if the Canucks win anything less than a Stanley Cup. It's ridiculous to celebrate in the streets after winning one game in a single series. It means nothing. Won round one? Been there, done that. Round two? Who cares, they were called Dallas in 1994. Round three? Oh, I've seen the end of that movie before, a guy named Greg Adams is in the end. Round four? Not even there yet? Maybe we shouldn't count any more chickens before they hatch.
So until they finally close the deal and catch up to where I was about seventeen years ago, I'll continue to criticize players who need improvement and watch each game with more nervousness than actual excitement.