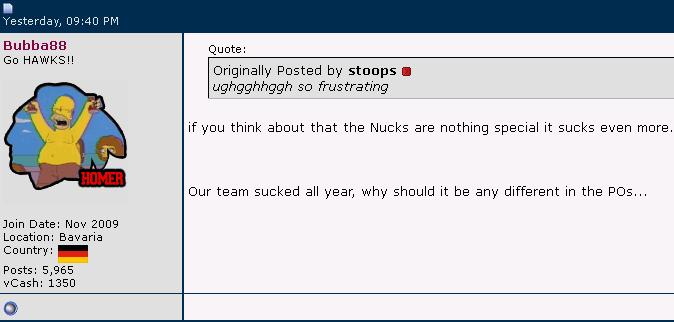 The screenshot you see above is from a message board post from a Chicago Blackhawks fan after the Vancouver Canucks defeated the Chicago team in game 3 of their 2011 NHL playoff series. The poster is essentially saying the reason why Blackhawks lost the last three games is because they're a bad team, as opposed to the Canucks having some great players (and thus having earned the victories). And they say Vancouver has the worst fans in the league.
I understand it doesn't feel very good when your team loses but the poster above just shows you that there are complete morons in any city that has a professional sports team. Just because you're butt-hurt from the loses doesn't give you any excuse to take a break from reality. The "nothing special" Vancouver Canucks currently have on their roster the Art Ross trophy winner for the last two consecutive years. They have the almost assured winner of the Selke trophy. They have a world-class goaltender who is most of the time, world-class and certainly stole the game 3. This team also scored the most goals in the league in the regular season and also surrendered the fewest goals in the same span (thus leading to the Jennings trophy). It would have to complete blind homerism for anyone to declare the Canucks as "nothing special".
Even though the Blackhawks are down three games now, I would never say their team is "nothing special". Patrick Kane, Jonathan Toews, Marian Hossa, and Patrick Sharp are among the best forwards in the NHL. They can be dangerous every shift. On defense, they have Duncan Keith (Norris trophy winner), Brent Seabrook, and Brian Campbell. All of them good d-men that would be welcomed on any team. I don't let team allegiances get in the way of seeing reality. Good players are good players no matter what team they play on.
I would like to add that while the Canucks certainly collected a fair number of accomplishments in the regular season, that is absolutely no guarantee they'll win it all. I am one of those rare hockey fans who is a realist. The road to the Stanley Cup is long, arduous, and contains surprises and sadly, sometimes disappointments. Anything can happen. I just hope that fans on both sides can "keep it real".